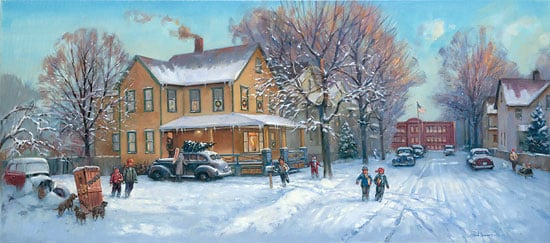 Everyone's Favorite Holiday Movie Comes to Life in a this Limited Edition!
All Ralphie wants for Christmas is a Red Ryder 200-shot carbine-action model air rifle with a compass in the stock and this thing that tells time. But every adult he confronts keeps telling him "You'll shoot your eye out!" From snowsuit paralysis to the triple-dog-dare of the tongue-on-a-frozen-flagpole to the Old Man's "Major Award" burning bright in the front window, humorist Jean Shepherd's tale of Christmas with the family has become a modern classic. Artist Paul Landry captured the magic of Bedford Falls in It's a Wonderful Christmas, and he has done the same with everyone's other holiday favorite, A Christmas Story.
Accompanied by a printed remarque featuring the kids of A Christmas Story.
A Christmas Story
Paul Landry
This Piece has been Signed by Paul Landry