A Distant Celebration: Collector's Edition Book & Canvas Set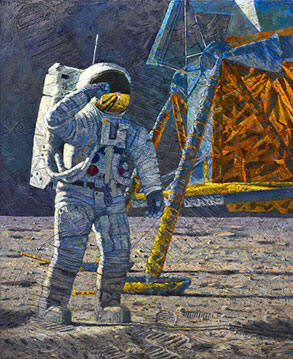 This two piece Giclee Canvas set comes with a Collector's Edition of the book "Alan Bean: Painting Apollo.
In the summer of 2010, the world celebrated the 40th Anniversary of man's first walk on the moon, and artist and Apollo Astronaut Alan Bean was the subject of a one-man show at the Smithsonian's National Air and Space Museum. Smithsonian Books published "Painting Apollo: First Artist on Another World", to coincide with the 40th anniversary of the Apollo 11 moon landing. The Greenwich Workshop produced a very limited Collector's Edition diptych and signed, slip-cased book, as well.
Artist Alan Bean's diptych portrays Apollo 11's Neil Armstrong and Buzz Aldrin as they erect and salute the American flag on the surface of the Moon. It is a moment that will live in history forever, and in the collective memories of the millions of people who saw it live on television. There was so much to celebrate! This amazing achievement demonstrated the collective will and capability of over 400,000 American men and women doing their jobs with care and precision.
A Distant Celebration: Collector's Edition Book & Canvas Set
Alan Bean
This Piece has been Signed by Astronaut/Artist Alan Bean