A Father's Prayer – General Robert E. Lee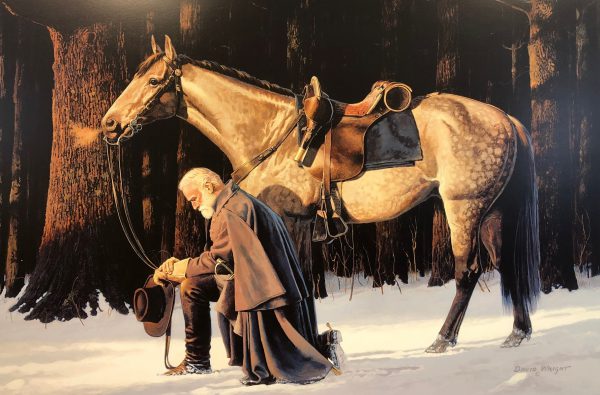 War sometimes demands of people far beyone what one would expect of their daily lives. Not only the test of combat, but the separation from families and loved ones for an indefinite period of time evinces a hardship that only a soldier in those circumstances can understand.
Family tragedy struck Robert E. Lee twice during the war. General Lee's duties as Commander of the Army prevented him from being at his wife, Mary's side during the sad loss of their daughter Annie in 1862. And again, during the death of his daughter-in-law in the winter of 1863, Lee's duties prevented him from being able to share his grief in person with his family. He was not only a father to his children but a father figure to many of his ment. By his writings it's evident that General Lee's faith in his savior helped him through those sad and tumultuous times.
- David Wright
A Father's Prayer – General Robert E. Lee
David Wright
This Piece has been Signed by David Wright