Afternoon Departure at Stoney Point Light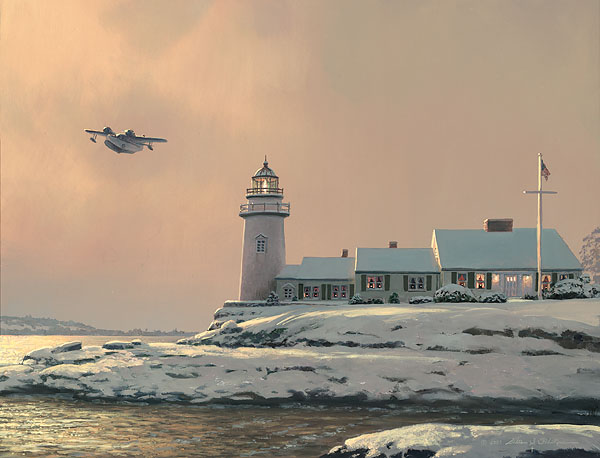 Welcome back to Phillips Bay, artist William S. Phillips' popular nostalgic creation portrayed in his Phillips Bay series of paintings. Stoney Point Light was built in the mid-1800s on the northern most point of land at the entrance to the inner harbor at Phillips Bay. Its name came from the rugged and treeless landscape along the windswept edge of the channel. The lighthouse keeper who lives and works here has a choice assignment. The rambling cape home runs right up to the lighthouse door so attending to the lighthouse duties, particularly in stormy weather, is close at hand.
The era is the mid-1950s. The Grumman Goose, designed in the 1930s as an eight seat amphibian commuter plane, served in WWII in combat and training. After the war the "Goose" returned to commuter and business use, especially around water, from Catalina, to Alaska, and yes, to Phillips Bay.
Afternoon Departure at Stoney Point Light
William Phillips
This Piece has been Signed by William Phillips