All the World's a Stage – Shakespearean Characters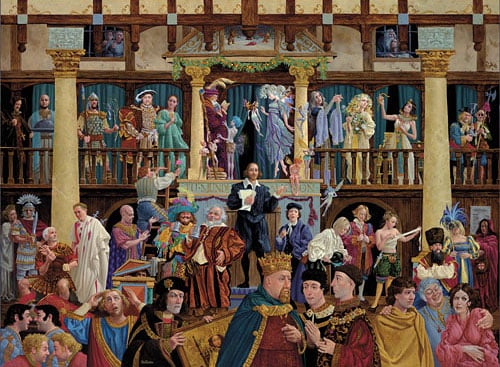 Kings, queens, knaves and clowns... your favorite Shakespearean characters come to life! The Bard and more than 50 of his dramatis personae take a bow in this remarkable tribute to Shakespeare's entire canon—38 plays, including the obscure Two Noble Kinsmen.
With the Old Globe Theatre as backdrop, James assembles an eclectic cast of fictional characters and actors in rehearsal mingling with a few thespians who never tread the boards (but might have flittered above them). You'll find Romeo proffering a rose to Juliet, who rebuffs the salacious overtures of Henry VIII. Viola of Twelfth Night is in the act of binding her breasts to fill the manly role of Cesario, while beside her other Shakespearean heroines don male apparel to play their virile counterparts— all the more interesting when you consider that in Shakespeare's day men played all the female roles. Caesar is a self-portrait—an opportunity for the artist to make a statement about backstabbing (he doesn't like it!) and revel in applause (notice Titus Andronicus giving him a warm hand).
All humor aside… James' prodigious knowledge of Shakespeare manifests in a work offering multiple layers of meaning and countless discoveries. "All the World's a Stage" was commissioned by the Utah Shakespearean Festival in celebration of its 40th anniversary.
All the World's a Stage – Shakespearean Characters
James Christensen
(-50%)
This Piece has been Signed by James Christensen