Ambush: 1725 at Lovewell Pond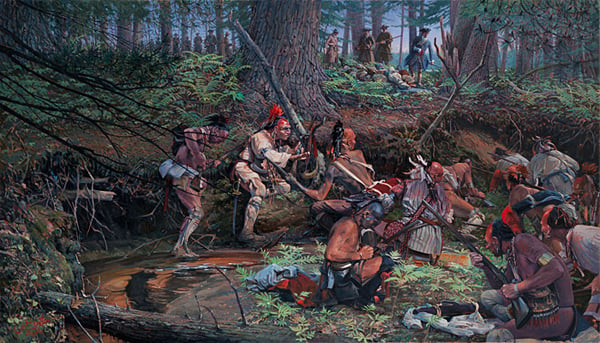 Artist John Buxton's "Ambush: 1725 at Lovewell Pond" depicts the calm before the storm of an American Indian surprise attack on militiamen. Captain John Lovewell of New England, a ranger and renowned scalp hunter, died on May 8, 1725 as he led a third expedition against the Abenaki Indians in an area now known as Fryeburg, Maine. A number of colonial militiamen and Abenaki Native Americans, including a notorious war chief named Paugus, also died in the engagement which marked the end of hostilities between the Abenaki and the white colonists in this part of the colonies.
More than 100 years later, the event was immortalized in a poem "The Battle of Lovell's Pond", by Henry Wadsworth Longfellow, author of Paul Revere's Ride, and The Song of Hiawatha.
One of the verses reads:
The warriors that fought for their country, and bled,
Have sunk to their rest; the damp earth is their bed,
No stone tells the place where their ashes repose,
Nor points out the spot from the graves of their foes.
"I'm a historical artist. I don't claim to be a historian," said Buxton who is known for his painstaking research into every detail. He hired a Maine historian to help him explore the banks of what is now Lake Lovewell in Maine. They canoed the lake and saw the actual sites of Captain Lovewell's exploits. Buxton noted the steep slope of the bank, the vegetation and fully imagined the scene that eventually took shape on his canvas. The original painting was commissioned by a direct descendant of Captain John Lovewell.
Ambush: 1725 at Lovewell Pond
John Buxton
This Piece has been Signed by John Buxton