Amidst the Thundering Herd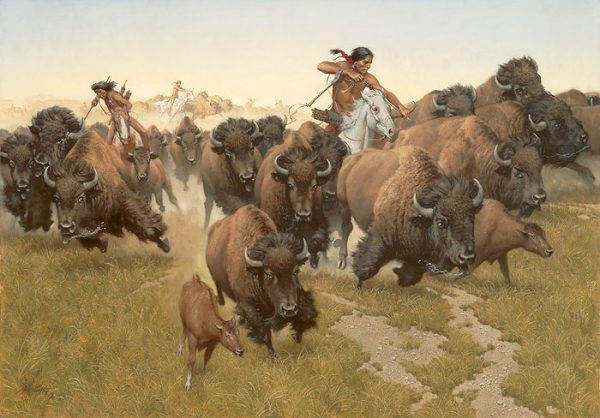 No other artist comes close to capturing the dynamic power and drama of life on the plains. Frank McCarthy's "Amidst the Thundering Herd" contains all the hallmarks of a McCarthy classic: a frozen instant of charging warriors and rampaging bison under a western sky. The mystical bond between the Plains Indian and his steed is conveyed as the ultimate display of skill and courage.
Most seasoned hunters prized special horses they had trained to move in close so the arrow or lance could be driven accurately. Such mounts learned to respond to the pressure of a knee or a shift in the rider's weight, signaling it to narrow the distance or to dodge away to avoid the angry thrust of a horn. A strong and fast horse was often the difference between life and death and as "Amidst the Thundering Herd" shows, Frank McCarthy remains the unrivaled "Dean of Western Action Painters."
Amidst the Thundering Herd
Frank McCarthy