Among the Spirits of the Long-Ago People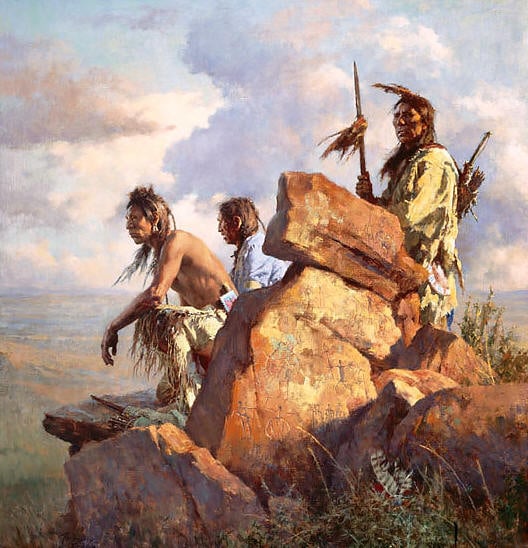 Petroglyphic carvings and paintings on the rock formation indicate that the visitors are in a spiritual place, blessed by the long-ago people. Numerous locations like this exist throughout Montana and Wyoming, always high on a mountain, close to the Great Spirit, with a spectacular view of Mother Earth. For centuries, Indian people have made the difficult journey to these sacred places to give thanks for their blessings and to pray for success in hunting and in battle. Today, they continue to visit these sacred places as their forebears did, leaving small pieces of trade cloth and handmade objects decorated with beads or feathers as gifts for the gods.
Unveiled at the Masters of the American West in February 2011, it won the Thomas Moran Memorial Award for Painting and sold for $900,100.
Among the Spirits of the Long-Ago People
Howard Terpning
This Piece has been Signed by Howard Terpning