An Early Light Breakfast (diptych)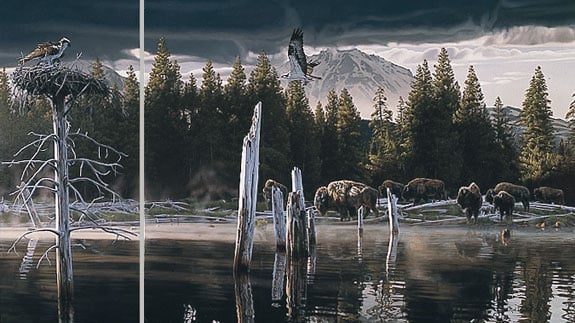 "There are two stories happening in this scene. One is the osprey nest and the other is in the forest where the bison are standing. By creating a diptych, I can keep the two animals separate, but still together in their habitat, which is the way they actually live.
"The tall, thin left side of the diptych has the female osprey standing on the nest. The wider panel on the right has, in addition to the bison, the male osprey flying with a fish in his talons, delivering it to the babies in the next painting over.
"It is definitely a summertime scene. The ospreys have returned to the north to nest not that the ice has melted off the high mountain lakes. The osprey is one of the most widespread raptors in the world. They're found on most continents, but they can winter only in areas where lakes are ice-free because they feed exclusively on fish. The bison used to be as widespread as the osprey, but bison were more easily and thoroughly hunted. I symbolize that by having the ospreys in the light, but the bison just coming out of the shadows."
- Rod Frederick
An Early Light Breakfast (diptych)
Rod Frederick
(-43%)
This Piece has been Signed by Rod Frederick