An Invitation to History: The Art of Tom Lovell (Excellent Condition)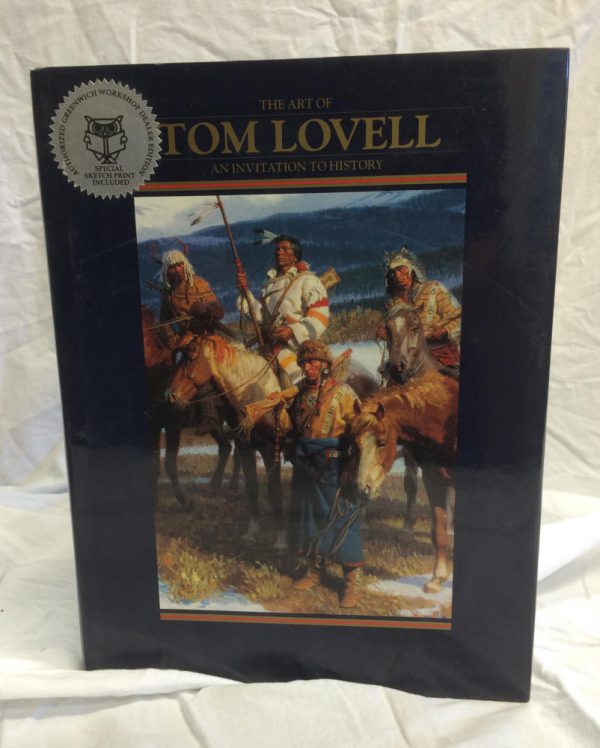 160 pages, 95 full-color images. The jacket/cover does show minimal shelf wear.
A commercial artist who started out sketching in the 1930's for pulp magazines, Lovell advanced to the glossier "slicks" in the 1950's and has since specialized in Old West, Plains Indian, and Civil War themes. He here presents from that long career his best canvases, among them his famed depictions of Lee's surrender and the Fifty-fourth Massachusetts' assault (in film, the climax of Glory). His spark of inspiration is usually to visualize an incident he has read of in the journals of the first white explorers and trappers, such as those of Lewis and Clark. Whether it's Clark firing his rifle or Indians encountering a cannon lost by Fremont, Native Americans are generally presented as wary but curious about the newcomers; Lovell puts the warfare outside of the frame. Themes aside, he works expertly with natural color, and though not a modern George Caitlin, his attention to the detail of Indian dress, carriage, and equipage is quite affecting, fully reflective of his respect for the cultures of Apache, Sioux, etc. A rich tribute to a captivating artist who evokes the West's vast landscape and its individual braves and traders in moods of exuberance and perseverance.
An Invitation to History: The Art of Tom Lovell (Excellent Condition)
Tom Lovell