Apache Farewell – Collector's Edition with "Desert Dreams" Deluxe Edition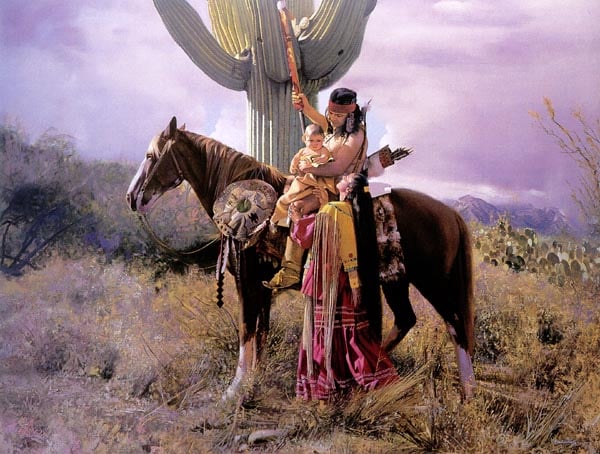 In the 1800s, the Apaches were fighting the white settlers, the Mexicans, the U.S. Army and attempts to put them on reservations. This Apache warrior, armed with his weapons, says farewell to his wife and child as he departs for battle.
Included with "Apache Farewell" is a Collector's Edition of the award-winning work "Desert Dreams: The Art of Don Crowley". Crowley is one of today's prominent Western artists. He is a member of the prestigious Cowboy Artists of America, and he is one of the "Tucson 7," an informal group of artists who began their careers in commercial art and have successfully made the transition to Western fine art. Since moving to Arizona in 1974, Crowley has dedicated his career to painting Native American life and people, particularly members of the San Carlos Indian Reservation in eastern Arizona. The book is slipcased and signed by the artist.
Apache Farewell – Collector's Edition with "Desert Dreams" Deluxe Edition
Don Crowley
This Piece has been Signed by Don Crowley and includes a Deluxe Collector's Edition Book with Slipcase of "Desert Dreams"