Apollo 11 – Eagle's Ascent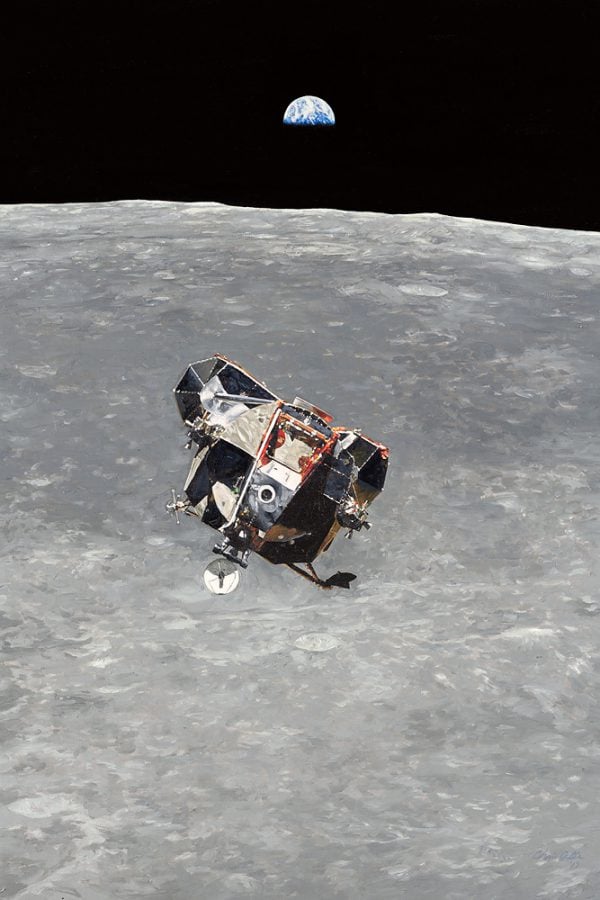 For his second and final mission in space, Collins served as command module pilot for Apollo 11. While fellow astronauts Neil Armstrong and Buzz Aldrin made the first manned landing on the lunar surface, Collins waited on board of the module for 21 and a half hours. As the command module drifted behind the moon, cutting off his communication with Earth, he wrote:
"This venture has been structured for three men, and I consider my third to be as necessary as either of the other two. I don't mean to deny a feeling of solitude. It is there, reinforced by the fact that radio contact with the Earth abruptly cuts off at the instant I disappear behind the moon, I am alone now, truly alone, and absolutely isolated from any known life. I am it. If a count were taken, the score would be three billion plus two over on the other side of the moon, and one plus God knows what on this side".
Collins took this picture of the Lunar Module, containing Buzz Aldrin and Neil Armstrong with Earth in the background, during the Apollo 11 mission. This makes him the only person ever to have lived who was not inside the frame of the photo. Matter cannot be created or destroyed. That means that every human that lived up to the point of this photo being taken still exists, at least in some form, and every human that has been born since then was also is in this photo, at least in some form. So even if you were born after this picture was taken, the materials you're made from are still on the frame of this picture.
---
Chris Calle is an artist who has designed more than 30 postage stamps for the United States and hundreds more for countries as diverse as Sweden and the Marshall Islands as well as designs for the United Nations. Chris' US postage stamp design work includes the two stamps in 1994 celebrating the 25th Anniversary of the Moon Landing jointly designed with his father Paul Calle who had designed the iconic First Man on the Moon stamp in 1969. Perhaps Chris' most well known artwork is the $2.40 Priority Mail stamp design of 1989, which depicts Apollo 11 astronauts Neil Armstrong and Buzz Aldrin planting the American flag on the Moon.
During his 20+ years as an illustrator and today, much of his artwork is related to the theme of space exploration. As an official NASA Artist, Calle covered two of the early Space Shuttle missions, producing artwork that is now in the collections of the National Air and Space Museum and NASA. In 1962, his father Paul Calle was one of the original 8 artists chosen to document the final mission of the Project Mercury program.
Apollo 11 – Eagle's Ascent
Chris Calle
This Piece has been Signed by Chris Calle