Apollo: An Eyewitness Account – The Art of Alan Bean (Excellent Condition)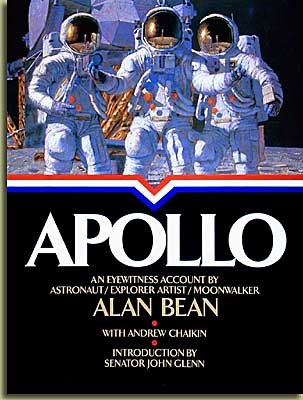 176 pages, more than 100 full-color paintings. Elaborate text and stories. The book is in excellent condition. The jacket/cover has some minimal shelf-wear.
Hundreds of thousands of miles from Earth, a few brave men have risked their lives attempting the stuff of fantasies — to fly to the moon and walk on its surface. Alan Bean's book, "Apollo," is part of adventure-thriller, part documentary, part autobiography and part fine art book. With the historic flight of Senator John Glenn and the success of the Emmy-winning "From the Earth to the Moon," we are once again fascinated with these remarkable lunar missions — missions that challenged the inherent dangers of space travel.
"Alan Bean re-creates the drama and excitement of man's exploration of the moon." — Neil Armstrong
Apollo: An Eyewitness Account – The Art of Alan Bean (Excellent Condition)
Alan Bean
This Book has been Signed by Astronaut/Artist Alan Bean