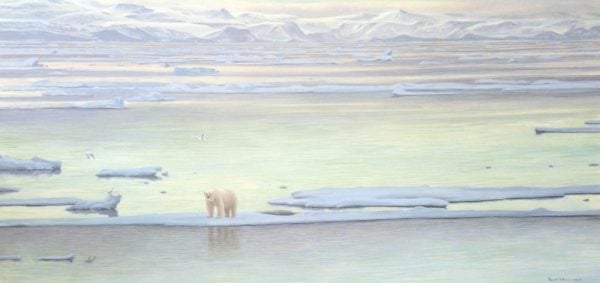 The arctic landscape is powerful, majestic and seemingly endless. It is rock and it is water; water in all of its forms. There is life, but mostly that life is in the sea. There is enough life to support one of the world's most gigantic carnivores, the polar bear. His realm is the water, mostly in the form of pack ice. But his massive paws can paddle him hundreds of miles from land. Like most carnivores, he is an opportunist and will eat everything, including berries and mice. But his ream meat is the seal.
In the glorious light of Davis Strait, between Greenland and Canada's Baffin Island, the colors shift and bounce. It is as if the icebergs, pack ice, open sea and snowy mountains are playing with the clouds to flaunt the possibilities of the spectrum.
The polar bear, succesful in the hunt, has pulled the seal onto the ice flow. The glaucous gulls hover in expectation of scraps from the kingly feast, but in spite of his great size, the bear seems only a tiny piece of the awesome arctic land.
- Robert Bateman
Arctic Ice – Polar Bear
Robert Bateman
(-21%)
This Piece has been Signed by Robert Bateman