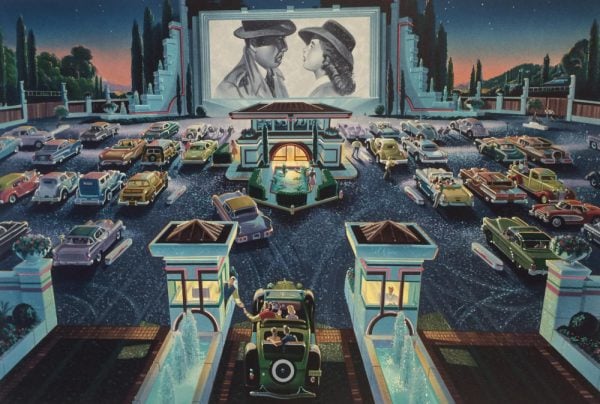 In "As Time Goes By", I wanted to design the ultimate fantasy drive-in, combining prairie-style art deco architecture with classic automobiles and the movie masterpiec, "Casablanca." I wanted to create a nostalgic piece with a contemporary feeling.
I also hoped to suggest the mood of the evening itself, with all of its many attractions: a roadster of pleasure-seeking teens arrives at the end of the first half of the double feature, just in time to catch the famous last scene in "Casablanca," while other pleasure seekers gladly miss the scene as they make their own in the back seats of their cars.
The piece features 33 classic automobiles: 1957 Chevrolet Belair, 1957 Cadillac El Dorado, 1963 Corvette Stingray, 1936 Bugatti, 1958 Edsel Citation, and many others.
- Michael Young
As Time Goes By
Michael Young
(-71%)
This Piece has been Signed by Michael Young