August 8, 1780: Engaging the Shawnee Village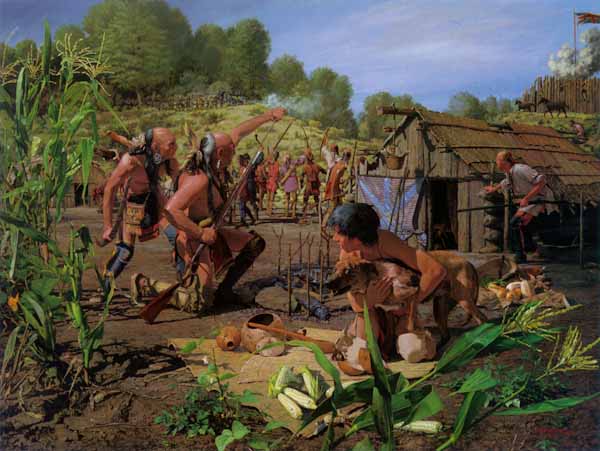 This battle took place August 8, 1780 during the Revolutionary War period. The British from Ft. Detroit were supplying the natives to attack the colonists in Kentucky and elsewhere. The British built a stockade fort for the Shawnee at their village, which you can see in the upper right corner of image.
Under the leadership of George Rogers Clark, the men of Kentucky retaliated. They moved north to destroy as many Indians and villages as possible while hoping to advance on Ft. Detroit. There were a few villages and six miles of planted corn along the flatlands of the Mad River just west of today's Springfield, Ohio. This has been called the Battle of Piqua.
The scene shown in my painting is about mid-battle when Clark's men had attained a hill to the to the west of the stockade. Their six-pound cannon shelled the fort and a group of natives filed out to face-off against Clark's men.
13-year-old Tecumseh was to have lived at this village, and is shown holding the dog. George Rogers Clark's cousin, Joseph Rogers, was killed at this battle. He is depicted as the Caucasian Indian on the right side of the native hut.
The engagement was a success for Clark's bragade, who destroyed six miles of corn, disabling winter raids on Kentucky because the natives needed to hunt game for food.
August 8, 1780: Engaging the Shawnee Village
John Buxton
This Piece has been Signed by John Buxton