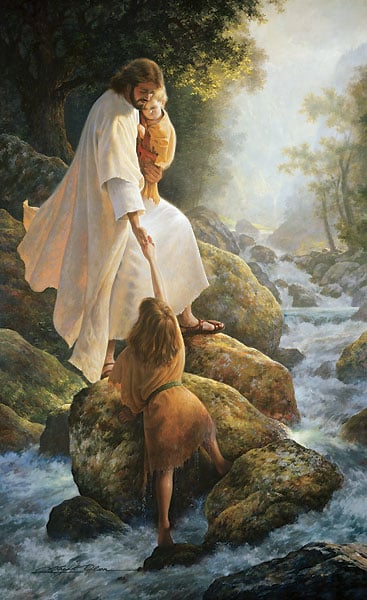 BE NOT AFRAID
Like children who have lost their way
Alone and comfortless we wander.
Stumbling through woods that grow deep and ever darker,
With no direction, we cry for help
And hear our pleas echo through the canyons.
Is there anyone who can hear us?
Then, like a rushing wind, a voice whispers to our heart.
And through tear-filled eyes, we see an outstretched hand,
There to lead us home.
Though swirling streams may block our way
And slippery stones betray our feet
He leads us on. He knows the way, His feet are sure,
And in Him we find safe passage.
Greg Olsen – 1997
Originally when the idea for this painting came to me I saw it in my mind's eye as Jesus helping a couple, perhaps a man and wife across this stream which symbolizes the tumultuous and difficult times in our lives. As I began to sketch out my idea it was soon apparent that the man and woman didn't appear helpless enough in comparison with the figures of Jesus. I then decided to use young children instead of adults to represent our comparative abilities. During our own trials we may sometimes relate to the words of Mary Stevenson in her poem, "Footprints in the Sand." We may see only one set of footprints during those painful miles on our journey and conclude that the Lord must have left our side. It is then that he replies, "The times when you have seen only one set of footprints, is when I carried you."
Proverbs 29:25
2 Timothy 1:7
Be Not Afraid
Greg Olsen
(-40%)
This Piece has been Signed by Greg Olsen