Before the Norther (Imperfect)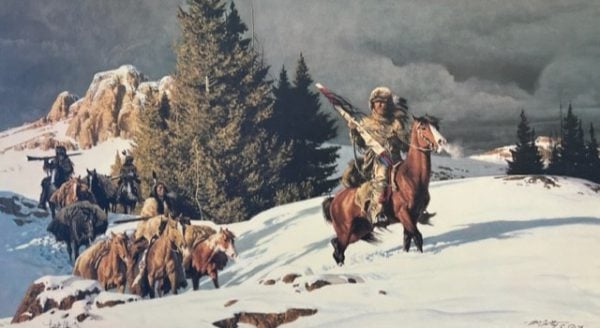 CONDITION NOTES:
This piece may have some minor issues due to age and handling. That's why we call it "Imperfect." It is in excellent condition. When framed it will look perfect.
For a more detailed explanation of the condition, feel free to call us toll-free at 1-877-444-0777 or 1-440-354-7002. We're always happy to examine the piece while you're on the phone with us and explain our sightings in extreme detail.
Imperfect items are ALWAYS a fantastic deal for collectors!
---
"Before the Norther" depicts several trappers and an Indian with their pack animals, caught in the last, low rays of the sun before a descending storm. The sky is leaden and the wind still.
Trappers often lived with friendly Indians for the winter and took Indian wives who beaded moccasins, shirts and other articles of clothing for them just as they would if married to Indian braves. It was sometimes hard to distinguish between an Indian and a mountain man except for the latter's beard.
- Frank McCarthy
Before the Norther (Imperfect)
Frank McCarthy
This Piece has been Signed by Frank McCarthy