Big: The 50 Greatest World Record Catches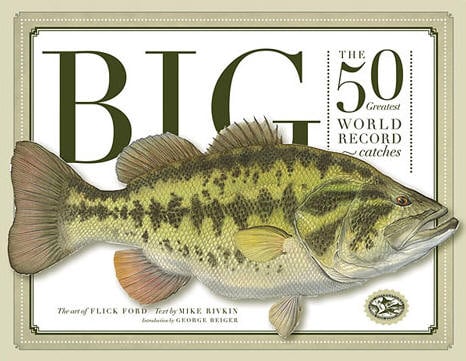 The universal interest in world records is nowhere more compelling than in the sports world. Fishermen, both pros and weekend anglers, dream of catching "the big one" and BIG: The 50 Greatest World Record Catches will more than satisfy the imagination and fuel the desire to fish through the off season.
Artist Flick Ford and International Game Fish Association (IGFA) historian Mike Rivkin have joined to tell the stories of the fifty most amazing record fish catches from around the world, selected for their sheer size, popularity, beauty, and classic record story. Through species research and archival photography, renowned artist Flick Ford reconstructs a portrait of each record catch as it would have looked emerging from the water. This book salutes the sportsmanship of dedicated fishermen, the history of angling and the fine art that brings it alive.
About the Author
MIKE RIVKIN is a retired catalogue publisher widely recognized for his spirited and successful copywriting. He is also a veteran offshore angler, Past President of the venerable Tuna Club of Santa Catalina Island, and has served as an International Game Fish Association International Representative. Mike has written extensively on the history of angling, including the widely-acclaimed books Big-Game Fishing Headquarters: A History of the IGFA and Angling and War: The Collision of Big-Game Fishing and WWII. On the water, he has caught every type of marlin that swims, including a 1,226 pound black marlin taken off Australia in 1984. Today Mike lives in La Jolla, California with his wife and three children and plies the Pacific waters nearby on his boat, Silverfish.
Over 50 color paintings plus photos
216 pages, 14 x 11 inches
Big: The 50 Greatest World Record Catches
Flick Ford
Order Today: Signed Books are Currently Available