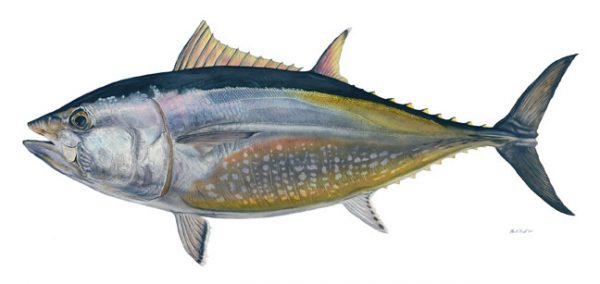 Trophy Sized Art of Trophy Fish
There are two groups of life on this planet that understand just how beautiful that elusive scaled, slimy and eventually smelly creature is: other fish and fisherman. Well, do we have an art find for you.
Introducing Flick Ford, fisherman, painter, founder of a 1980s garage band, river rat, environmentalist … painter. "I'm not sure I was born to be a fisherman but I was born to a fishing family," explains the artist, who fishes more than 100 days a year in search of the perfect specimens.
"I've probably used most every kind of fishing method available to me. I've experienced days of second degree sunburn, rain induced hypothermia, nearly lost myself in a tornado storm in the middle of a lake and drifted helplessly in the current of a river. But I can truthfully say I have never had a bad day of fishing."
Familiar with their habitats, anatomy and color patterns, Flick hooks almost every fish he paints, although most are released shortly after. After landing a fish, he carefully measures it, and then traces its outline. Using taxonomic methods reminiscent of 19th century artist Stephen F. Denton, Ford photographs every inch of the fish so he can count the scales and include exactly the right number in his painting. For accuracy in color he relies on both his photographs and his artistic color memory. When possible, the fish are painted life size. The resulting paintings show the unadorned beauty of the living fish, with an unparalleled accuracy that has them nearly jumping off the wall.
Bluefin Tuna (thunnus thynnus), the coveted "big game" built for speed, range from "footballs" of a few pounds to the world record of 1,496 pounds and nearly 12 feet in length.
Bluefin Tuna
Flick Ford
This Piece has been Signed by Flick Ford