Captured from General Crook's Command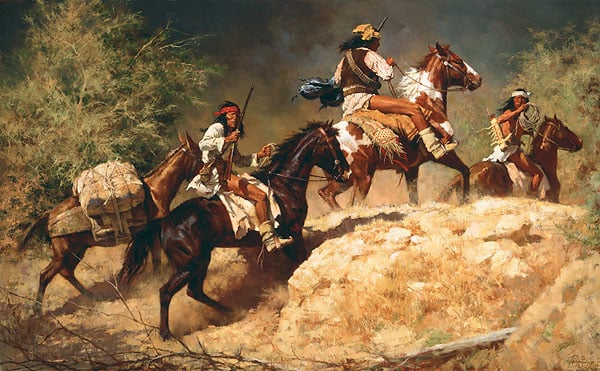 "In the early 1880s, Apache raiding parties were always looking for ammunition and military hardware for their never-ending fight against encroaching civilization. After years of being chased and harassed by the U.S. Cavalry, the number of Apache warriors had been greatly reduced and their only means of survival was by raiding and capturing goods from settlers, Sonorans and the military. In this instance, the raiders managed to capture a loaded pack horse and the Apache warrior riding the paint horse snatched a full pair of saddle bags which may also yield ammunition, food and other usable goods.
"General Crook, whom the Apaches called 'Grey Wolf,' was twice sent to Arizona to subdue the Apache and to force them onto reservations. These periods of warfare and relative peace stretched from the early 1870s to 1886 when Geronimo finally surrendered." - Howard Terpning
The dramatic action and composition in Howard Terpning's "Captured from General Crook's Command" conveys the Apache's urgency and desperation.
Captured from General Crook's Command
Howard Terpning
(-37%)
This Piece has been Signed by Howard Terpning