Carriages in Front of the Plaza Hotel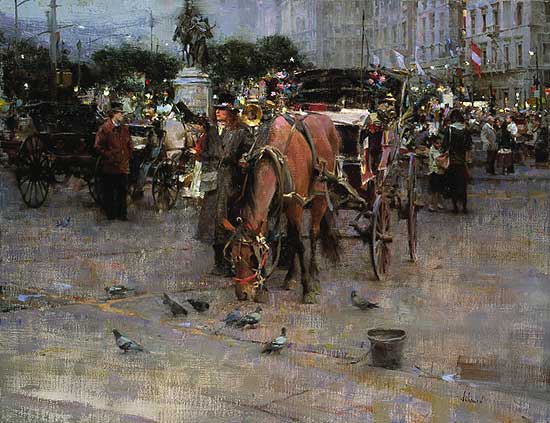 "Whenever I am in Manhattan, I make time to visit one of my favorite spots in the world - Central Park. Ever since my first visit there I have been fascinated by the place.
"'Carriages in Front of the Plaza Hotel' is only one of many impressions I have painted of the park over the years. I tried to capture something which surprisingly still lingers in various corners of Manhattan - a certain leisurely grace of times past.
"Once in a while, when dusk arrives on a mild evening and the midtown traffic diminishes, that old turn-of-the-century atmosphere seems to magically emerge around Central Park South. The lights came up and people crowd the sidewalks. The carriages line up to take tourist and romantic couples for rides around the park. The whole scene seems strangely fragile in contrast to the crazy hustle and bustle of Manhattan. But I think that is one of the reasons I like it so much. There is something here that we have lost. Being a hopeless romantic, I find it irresistible."
Carriages in Front of the Plaza Hotel
Richard Schmid
(-34%)
This Piece has been Signed by Richard Schmid