Chief Joseph Rides to Surrender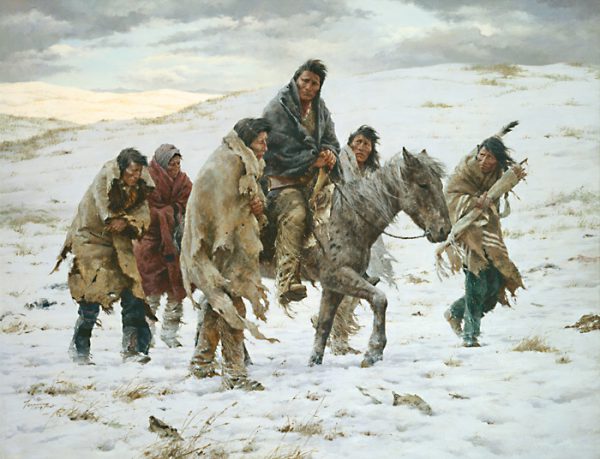 The Nez Perce area at the time of Lewis and Clark was approximately 17,000,000 acres. It covered parts of Washington, Oregon, Montana and Idaho. In 1800, there were more than 70 permanent villages ranging from 30 to 200 individuals, depending on the season and social grouping.
The Nez Perce were migratory and would travel with the seasons according to where the most abundant food was to be found. This migration followed a predictable pattern from permanent winter villages through several temporary camps, nearly always returning to the same locations year after year. The Nez Perce splintered into two groups in the mid-19th century, with one side accepting coerced relocation to a reservation and the other refusing to give up their fertile land in Washington.
On October 5, 1877, Chief Joseph of the Nez Perce Nation surrendered to units of the U.S. Cavalry near Chinook in the north of what is now Montana. Before this surrender, the Nez Perce fought a cunning strategic retreat toward refuge in Canada from about 2,000 soldiers. This surrender, after fighting 13 battles and going about 1,800 miles (2,900 km) toward Canada, marked the last great battle between the U.S. government and an Indian nation. After surrendering, Chief Joseph stated his famous quote: "Hear me, my chiefs, I am tired. My heart is sick and sad. From where the sun now stands, I will fight no more forever."
Chief Joseph Rides to Surrender
Howard Terpning
(-35%)
This Piece has been Signed by Howard Terpning