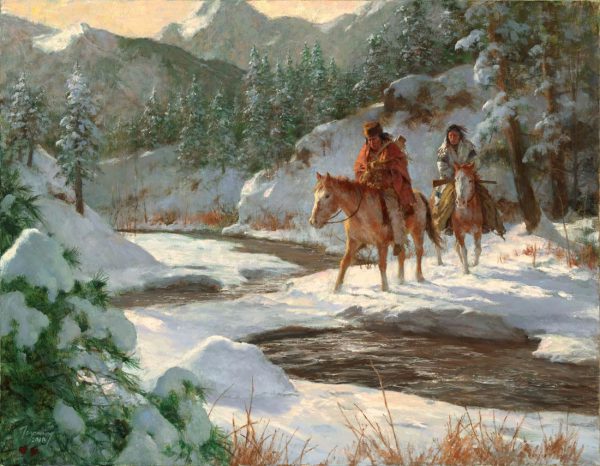 This painting is featured on the cover of the January 2020 issue of "Western Art Collector" magazine.
The painting "Cold Makers Bridge" is part of the Terpning's family collection. Some of those that follow Howard Terpning and know the story, will understand the significance of the dual hearts in the bottom left corner of the painting. When Howard creates a painting he wishes to keep, he and his wife Marlies both paint a red heart on it. This is something they have done from the very beginning and after 50 years of marriage the tradition continues.
Howard Terpning says about "Cold Makers Bridge": "The Plains tribes believed that winter weather was brought on by the Cold Maker. He was a spirit or being who caused the cold weather, snow, and ice. The people moved their camps to more sheltered areas in the winter to seek some protection from the elements. These two riders may be going in search of game which could be hard to find in the time of the Cold Maker. Experience has taught them that the ice across the stream is thick enough to hold their weight. We shall see... fortunately, the stream is shallow.
Cold Makers Bridge
Howard Terpning
This Piece has been Signed by Howard Terpning