Country Schoolhouse, 1879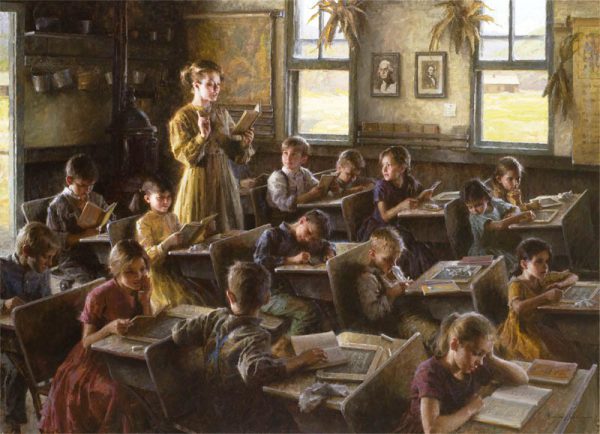 "The one-room schoolhouse goes back to the founding of our great country," says artist Morgan Weistling. "It evolved through the decades but the general idea remained the same. I painted the time period that I know and love best, the post Civil War era. I decided to place the teacher as the focal point, a tribute to all the dedicated teachers that help build this nation.
"This is a rural country schoolhouse and I wanted to portray a class that was a little more primitive. They were still using individual chalk boards instead of pen and paper (because of the cost of paper then). No fancy bows and frilly dresses for these kids. I imagined these children as coming from a farming community as well as tradesmen's homes.
"In my mind, each child has a story. Some are related to each other. There is the girl who gets jealous because another girl is talking to a boy she likes. There is the boy with adoring eyes for his teacher and the girl that has eyes on him. Then there's the kid who is more interested in his chalk than the lesson and the boy who really is having trouble understanding the lesson. I show a little slice of each of their personalities. Teachers and their classes from this period often appear grim-faced in photographs because of the long exposures required to capture the image. But children are not grim! I used real children as my models to make this room feel alive. I also imagined a background story for the teacher. She is new to her profession, full of enthusiasm yet a little naïve about whom she is entrusted to teach. From crushes to jealousy to apathy to determination, it's all there in that little one room schoolhouse."
Country Schoolhouse, 1879
Morgan Weistling
This Piece has been Signed by Morgan Weistling