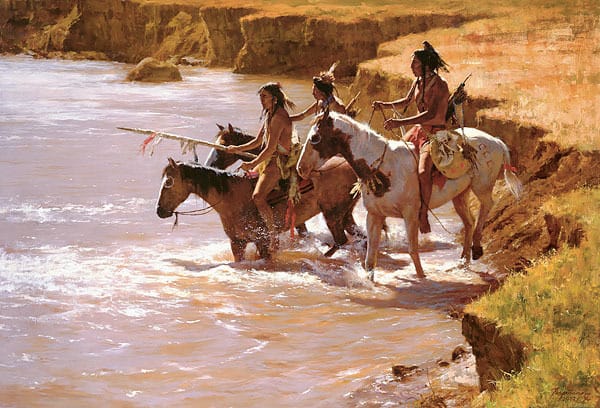 Howard Terpning's respect for his subject matter evokes emotion both in his paintings and from those viewing them, have made him one of the most lauded painters of Western art.
In his latest original, this "Storyteller of the Native American" has created a stunning vision of three Crow Indians as they begin to cross a river.
"These three Crows are part of a war party in search of their enemy," Howard says. "Knowing how to find the ford in a river is a big advantage and this is a skill that comes naturally to these three plains Indians."
This Terpning image is printed on textured canvas. This unique and valuable technique replicates the look and feel of a Terpning's original painting, including canvas texture and brushstrokes.
Crossing at the Ford
Howard Terpning
(-29%)
This Piece has been Signed by Howard Terpning