Day of Yellow Hair – Diptych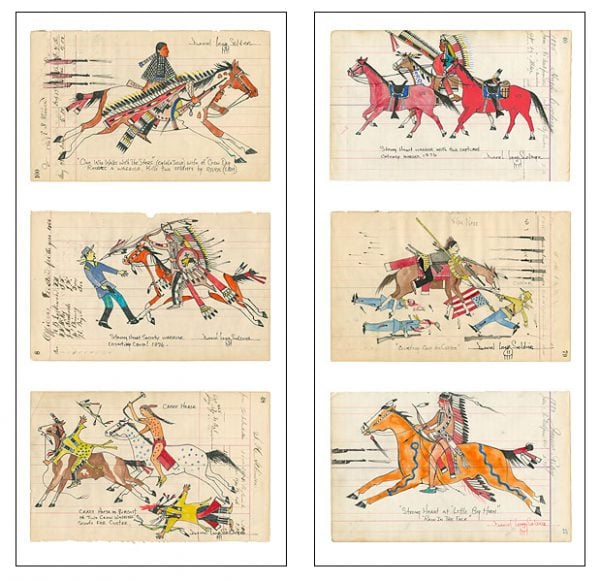 Day of Yellow Hair Left Panel:
"One Who Walks with Stars" (Oglala Sioux) wife of "Crow Dog" rescues a warrior. Kills two soldiers by river - Emphasizing the deep personal nature of these paintings, this is a story that LongSoldier grew up with in his own home. Crow Dog was Daniel's great grandfather.
Strong Heart Society Warrior Counting Coup, 1876 – The Strong Heart Society was a Sioux warrior organization like the Cheyenne Dog Soldiers. They wore a war bonnet with split horns and the distinctive red sash. If cornered in battle, a Strong Heart would plant his sash in the ground and fight to his death in that spot. Only a relative could save could save a Strong Heart committed to fight to the death.
"Crazy Horse" in pursuit of two Crow warriors! Scouts for Custer – Crazy Horse held a special disdain for the Crow or any other Indian that worked with the Cavalry. He believed that if you were Indian you should be helping Indian.
Right Diptych panel:
Strong Heart Warrior with two captured horses, 1876 – A Strong Heart warrior who's bonnet featured red feathers indicated that he had been wounded in battle. It was the Native American version of our military's Purple Heart.
Yellow Nose Counting coup on Custer – LongSoldier states Custer was admired for his valor and courage in this fight. After his death, his body wasn't mutilated as many others were. Holes were poked in his ears, however, because his poor battle tactics indicated that he probably wasn't listening to the advice of others.
Strong Heart at Little Big Horn, Rain in Face – Most warriors would not brag of their own feats in battle but rather would leave the telling of these accomplishments to others. From the stories a young Daniel LongSoldier heard growing up, Rain in Face was a warrior and a half, a true born warrior, but a man who's exploits remain unknown to the world at large.
Day of Yellow Hair – Diptych
Daniel Long Soldier
This Piece has been Signed by Daniel Long Soldier