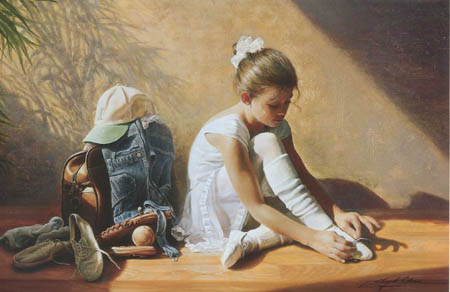 DENIM TO LACE
A rough-and-tumble tomboy with sneakers on her feet,
She'll go toe-to-toe with any Joe she meets along the street.
Her prowess on the playground has created no small stir,
In fact the star player of the game was not a him – but her!
She hits and throws and, the story goes, her fast ball can't be seen,
But beneath the grit and all the grime can be found a little queen.
The tomboy goes when she changes her clothes and lays her leather aside,
When the sneakers come off and the slippers go on, with laces carefully tied.
Then the pitcher does a pirouette that's like a curve ball she has thrown us,
And with dancing shoes and graceful moves, a much softer side is shown us.
Greg Olsen
Denim to Lace
Greg Olsen
This Piece has been Signed by Greg Olsen