Digging in at Sappa Creek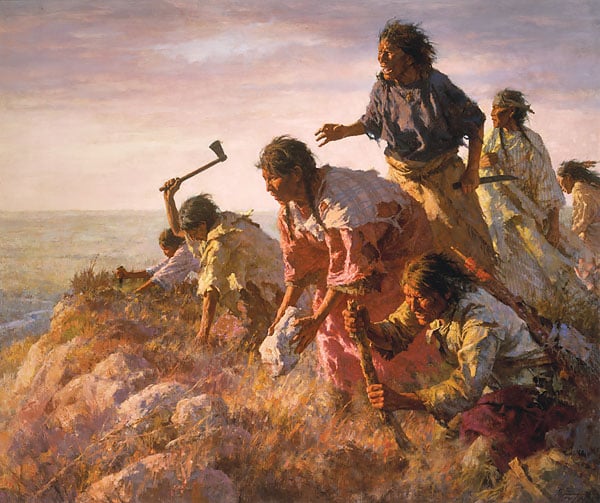 "Northwestern Kansas, 1878. All they wanted to do was go home. But their exodus became the long, dying wail at the end of a Cheyenne war song.
"The Cheyenne people had been moved from their homeland with the promise they could return if they didn't like the designated 'Indian Territory.' When it turned out to be so cramped and under-supplied that their people started dying, the Cheyenne attempted to take advantage of the Government's pledge to allow their return home.
"That pledge was rescinded. The promise was broken. Seeing no other choice, the surviving Cheyenne left anyway. They were attempting to reach their homeland in the Yellowstone country some 1500 miles away. Many had to travel on foot because they had so few horses. Yet, in less than one month, they covered 600 miles – while engaging in countless battles with the army. Many cut their hair short in mourning for the loved ones they lost along the way. Out of the original 300 people who started from Oklahoma, only a few reached their final destination.
"With the dust of the Cavalry in the distance, the women joined the men in frantically digging rifle pits with belt axes, butcher knives, and anything else they could find.
"'Sappa' means black. I was out at the exact spot where this took place. It's symbolic to me of all the fights between the Cheyenne people and the Cavalry. This image is dedicated to the Cheyenne people, for their courage and strength, and their belief that they had the right to live in a country where their ancestors were buried." - Howard Terpning
Digging in at Sappa Creek
Howard Terpning
(-24%)
This Piece has been Signed by Howard Terpning