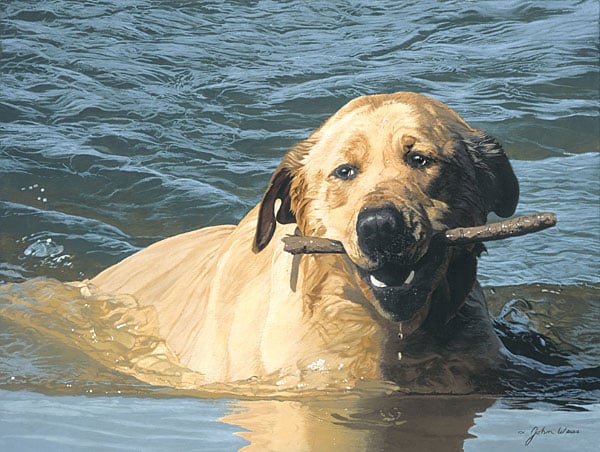 Is someone being taught to "fetch?" or, is someone being taught to "throw?" If you think about it, everything we understand about training is in play. A behavior not genetically inherent to our survival is being impressed upon us through the will of another. We receive positive reinforcement for engaging in the behavior which encourages us to repeat it again and again. Even if we initiate the behavior, we generally do not stop until the canine has decided the behavior is complete. Heck, we'll even fight over the stick just to get the chance to throw it again!
If the reward is a lifetime of loyalty and companionship, then this submission to another's will is a glorious one. John Weiss has no equal when it comes to capturing this bond between man and dog. From capturing the mischievous gleam in a puppy's eye to the long walks in the woods with your companion at your side, Weiss' art constantly reminds us, "Does It Get any Better?"
Does it Get Any Better?
John Weiss
(-33%)
This Piece has been Signed by John Weiss