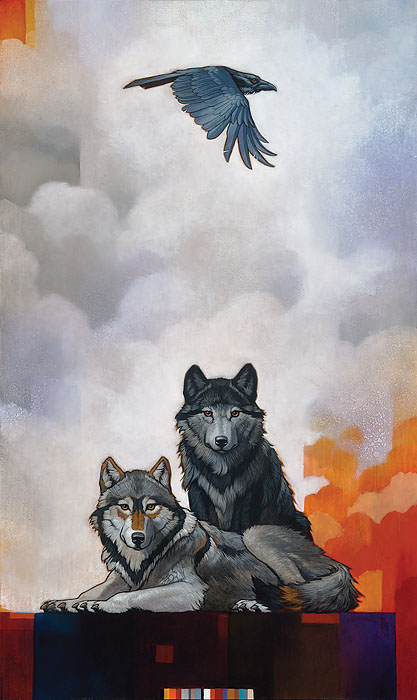 Yellowstone National Park's Druid Peak pack is perhaps the most well known, observed and documented wolf pack in the world and the subject of Craig Kosak's "Druid Alphas with Raven". A blend of mythology, legend and personal insight, the contemporary wildlife art of Craig Kosak presents a world in balance inspired by both the natural world and the human condition.
Wolves and ravens are two of the four animals that dominate Kosak's work (horse and bison are the other two). Each represents a particular connection he has made on his travels. "Ravens guide me to accept my most secret self, my uniqueness, to celebrate who I am; while wolves speak to me of wit and intelligence," says Kosak.
PBS' Nature showed the world just how complex and intelligent wolves can be with "In the Valley of the Wolves: The Druid Wolf Pack Story". It is one of the best episodes of the series. The pack's last-two Alpha's are featured in this painting. To view the episode and learn more go to: http://www.pbs.org/wnet/nature/episodes/in-the-valley-of-the-wolves/the-druid-wolf-pack-story/209/
"Druid Aplhas" also pays homage to the equally magical and Darwinistic relationship between the raven and the wolf. It is a kinship that emanates from the primeval fact that a raven's beak is not sharp enough to puncture the hide of a carcass. Through the millennia a far more complex rapport between the two has developed; a social relationship, hunting partners and playful friends, that exceeds most known in the animal kingdom. "I want to show the bond we have with other living creatures that share our planet."
An important element to look for in "Druid Alphas" is the edge ribbon. The edge ribbon is a strip of paint that will contain all the colors that Kosak used while creating the painting, a new band added each time a new color is used. The edge ribbon is a record of the painting coming into being.
Druid Alphas with Raven
Craig Kosak
This Piece has been Signed by Craig Kosak