Evening Rendezvous – Framed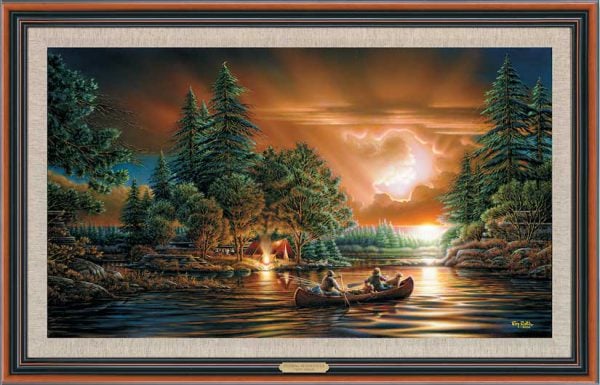 Several campers have already reached Rendezvous Point and set up camp. Now, at sundown, before a dramatic sky of developing thunderheads and bursting light, the rest of the family members quietly glide toward their destination. But they do not arrive unnoticed. Perched on the very tip of a tall pine, a hawk surveys his wilderness domain. Mom, in front of the canoe, looks up in delighted surprise. We note the young girl in the canoe carefully trails a line and bobber. The family dog, not fully at ease in the rocking canoe, is anxious to reach land. The campsite is ready for visitors, with camp table and benches in place.
In many ways this colorful painting is vintage Terry Redlin. He remembers how it was, and how it can be, for anyone who has the will or imagination to reach for one of life's grandest experiences.
Evening Rendezvous – Framed
Terry Redlin
This Piece has been Signed by Terry Redlin