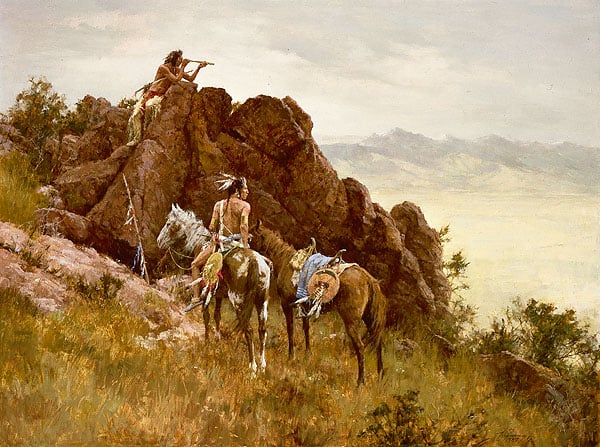 Who, or what, does this Blackfoot warrior search for in the valley below? Has news of an enemy's war party reached camp? Are they war party scouts them-selves? Is the cavalry on the move? Perhaps, he spies buffalo or game?
This rock formation is west of the Madison range in Montana, not all that distant from Yellowstone National Park. The Blackfoot people would often travel through this area and camp at various sites. A vantage point such as this, offering both concealment and scope of vision, would be the location of choice for any scout in the area. The monocular scope the warrior is using was a much sought after tool that was highly prized for obvious reasons. The Native Americans were quick to adopt whatever white man goods that they found useful.
Howard Terpning has staged "Far Seeing Glass" to leave little doubt in our minds that something has caught the eye of these two braves. He has been just as careful not to answer what that is. As a master craftsman, Howard invites us into the painting through the beauty of his design and execution. As a master storyteller, he gives us ownership of the work by having us complete the story and determine just what it is they see.
"Far Seeing Glass" is a prime example as to why Howard Terpning is held in such high regard by critics, collectors and fellow artists alike.
Far Seeing Glass
Howard Terpning
This Piece has been Signed by Howard Terpning