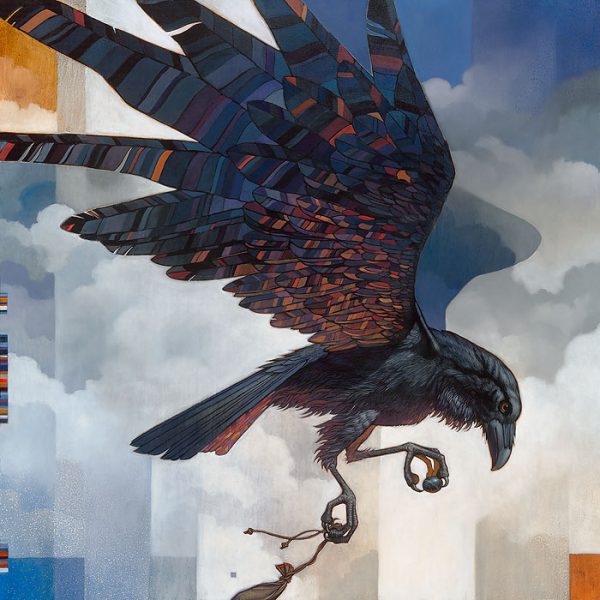 "The raven is a trickster, a protector, a teacher and a bringer of great magic to the tribes of the Northwest," explains Craig Kosak regarding "First Land." "They trick us into seeing the things we are missing in our lives. The raven is also a provider. The sun, the stars and moon and even fire were supplied by a raven. And so was the land on which we stand.
"It seems that the raven had become bored with the spirit-land in which he lived and flew away carrying a stone. When he became tired of carrying the stone, he dropped it into the ocean. It expanded, becoming the ground upon which we humans came to live. It was a raven who found men hidden in a clam and released them in the world. According to the legend, he literally coaxed us out of our shell."
Four animals primarily dominate Kosak's paintings: the raven, bison, wolf and horse. Each represents a particular connection he has made with it on his travels. "Ravens started my journey in the Tetons, bison found me in Yellowstone," he says, "wolves in the California Sequoias and horses in the hills of New Mexico."
Each of these animals represents a specific emotional quality for the artist: "Ravens guide me to accept my most secret self, my uniqueness, to celebrate who I am rather than hide it. The bison inspires confidence and reminds me of that part of myself that is anchored, persistent, and able to withstand hardship. Horses are a sign of strength and sensitivity, while wolves speak to me of wit and intelligence.
"I idealize my characters and anthropomorphize them. I saw the raven in "First Land" on a fence post with his wings like that then sought to improve on it. I always try to create something on my own, to say something new." "It took years to find my voice." he says. "I combine the realistic observations, impressions and feelings of an outer world, the physical world through which we travel - with an inner world of self-discovery, the abstract and rule breaking part of my art. I use this inner vision to idealize these insights."
Kosak does not juxtapose his geometric and illustrative elements, rather he merges them together through layers of glazes, patinas and textures. Each painting features an edge ribbon. The edge ribbon will have all the colors that are in the painting, a band added each time a new color is used. The edge ribbon is a record of the painting coming into being.
"My paintings are inspired by the natural world and the human condition. I use myths and legends to facilitate an understanding of ourselves and provide perspective on how we fit into the universe at large. Most importantly I want to show the bond we have with other living creatures that share our planet."
First Land
Craig Kosak
This Piece has been Signed by Craig Kosack