Fish: 77 Great Fish of North America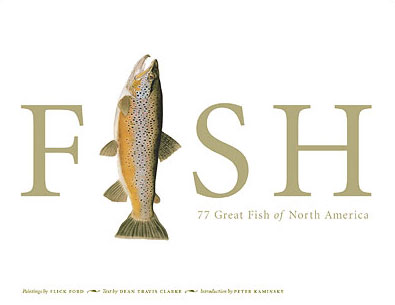 Paintings by Flick Ford. Text by Dean Travis Clarke. Introduction by Peter Kaminsky. Hardcover trade edition: 208 pages. Over 80 color paintings plus sketches. 14" x 11"
FISH is a stunning celebration of this continent's great fish, mostly game fish, with a sprinkling of fun (pumpkin seed sunfish), history (American shad), and culinary delights (red snapper). These detailed, never-before-published watercolor portraits, with text by the master of sport fishing, Dean Travis Clarke, combine to make an upscale guide for the naturalist, an aid to the angler, a tool for the educator and conservationist, and an enjoyable read for everyone. It's part field guide and part angler's soul, but most of all a feast for the eyes.
Fish: 77 Great Fish of North America
Flick Ford
Order Today: Signed Books are Currently Available