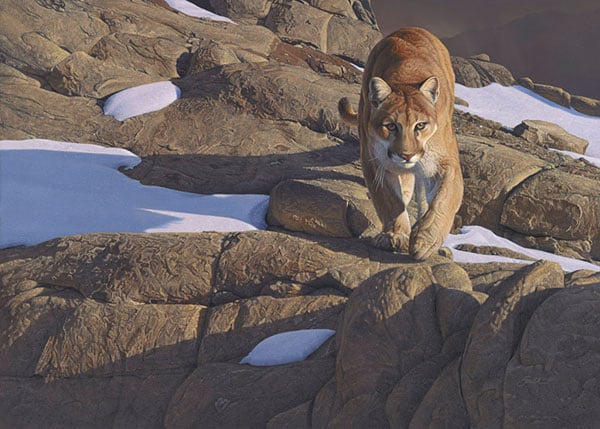 "Mountain lions epitomize stealth and grace," expresses Daniel Smith. "They maintain fluidity of movement over unseen rock surfaces with amazing agility. They can leap up to twenty feet and subsequently are formidable predators. This great cat's eye contact with its quarry creates a strong focal point and leaves no doubt that this feline is Fully Engaged."
A featured painting at the Jackson Hole Art Auction, this work is as much a brilliant study of texture and form as it is wildlife art. Smith's use of early morning light cast across this sinuous mountain top brings to life the positive and negative shapes of this snow and rock terrain.
"Fully Engaged" captures the complete essence of this mountain lion in a single moment, a brief pause in an otherwise very physical existence. This 28" x 20" Fine Art Canvas Edition leaves us stilled at the fierce beauty of this alpine predator.
Fully Engaged
Daniel Smith
This Piece has been Signed by Daniel Smith