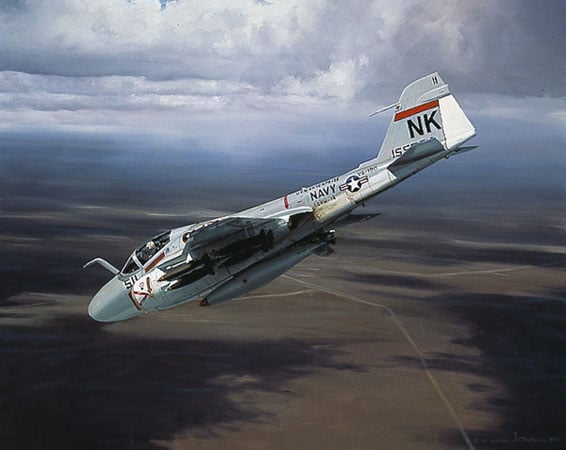 "Making its combat debut in Vietnam in 1965, the Grumman A-6 Intruder provided U.S. Naval Aviation with the capability to operate in some of the worst weather in Southeast Asia. Guided by digital integrated attack and navigation equipment, the aircraft ushered in a new era of aviation technology that all but eliminated visibility problems.
"An A-6 crew could take off, fly to its target at any altitude, drop its ordinance and return to base without the crew ever seeing outside the cockpit." - William Phillips
"Going in Hot" is cosigned by best-selling author, Stephen Coonts. During the Vietnam War, Coonts was an A-6 pilot who saw a great deal of action. Coonts' novel on the Vietnam war is called "Flight of the Intruder."
Going in Hot (A-6)
William Phillips
(-30%)
This Piece has been Signed by William Phillips; and Countersigned by Stephen Coonts, author of Flight of the Intruder