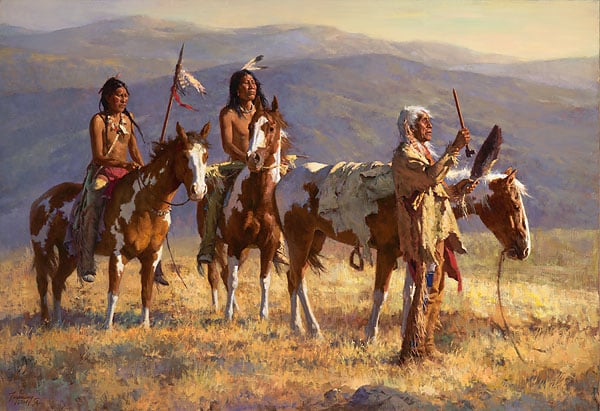 "Many years ago, I camped overnight about a hundred feet from this spot," says Howard Terpning. "As I recall, it is in an area of the Ruby Mountains in Montana, which was part of the vast region that was home to the Blackfoot people.
"Natosi (sun) was the dominant power in their lives and they believed that Sun gave life-giving energy to all things. I imagined that early one morning as Sun's rays swept across the land, this old man dismounted from his pony. He held up his sacred eaglewing fan and his pipe and prayed to Sun as his two warrior grandsons looked on with deep respect for their grandfather and the traditions he embodied.
"The story in a painting like this is in the faces of the figures. I wanted to capture a reverence in the faces of these young men for their grandfather and the only way to do that is to make a large enough canvas that your figures can be large.With a large format you can introduce more drama, you can enter more into the play of light and shadow on the figures and you can achieve a more dramatic effect than you would on a smaller canvas."
Terpning's passion for the story of the Native American, combined with his formidable talent as a painter, makes each of his Fine Art Limited Editions a unique and commanding treasure for your home or office.
Grandfather Prays to Sun
Howard Terpning
This Piece has been Signed by Howard Terpning