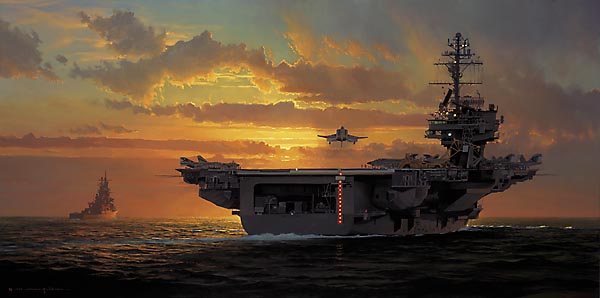 "On station in the South China Seas, the USS Constellation recovers its aircraft in a setting that belies the dangers inherent in carrier operations. Its story begins with the Kitty Hawk class carrier, USS Constellation, built in the New York Naval Shipyard and christened on October 8, 1960. Damaged before completion by a fire on the hangar deck that killed 50 civilian workers, Constellation more than overcame the challenge and served proudly and well.
"The carrier was assigned to San Diego throughout its service; yet it was much more at home on the high seas. Between May 1964 and 1972, Constellation deployed to the western Pacific six times. It was in the sixth deployment, departing October 1971, that Constellation, UJSS Oriskany and USS Enterprise alternated on Yankee Station. Three months later, in a F-4 Phantom II off Constellation, Lt. Randy Cunningham and Lt. Willie Driscoll claimed a MiG-21, the first enemy aircraft downed since March 1970. In May, the two engaged in a vicious dogfight in which they were vastly out-numbered, and Cunningham and Driscoll counted three enemy fighters. Their foes were the first downed by air-to-air missiles, elevating the duo to the first U.S. aces of the Vietnam conflict – five enemy aircraft in four months." - William Phillips
Phillips depicts the Phantom, with its characteristic smoke trails signaling minute power adjustments, descending to make the trap. Warm evening light welcomes the aircraft home and the hunt is over – for a while.
Home is the Hunter
William Phillips
(-43%)
This Piece has been Signed by William Phillips