In the Mountains – Osprey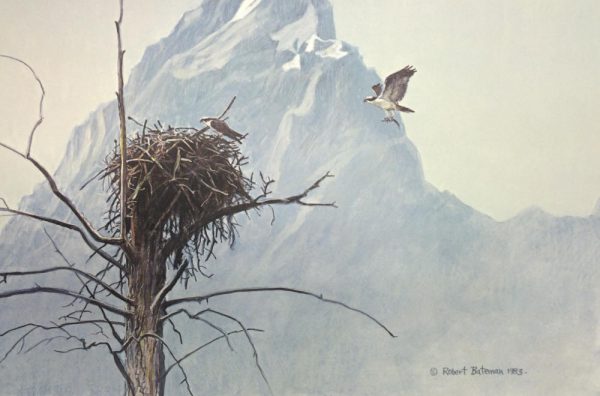 If I see an osprey, I feel that this particular area must be an interesting place. I very much enjoy the presence of water. This, coupled with plentiful fish, is a good indication for osprey as well as other wildlife. In most cases, the presence of osprey means wilderness, however, there are parts of Florida where I've seen osprey nesting on utility poles or near busy highways.
This painting is a study of a nest I saw in truly picturesque wilderness country - the Grant Tetons in Wyoming. It was beside a river which was much used by fishermen.
The nest, of course, is a major structure which takes a long time to build in the first place and is added to through the years. Some of the sticks are immense. You can imagine this bird carrying each one for considerable distances in the air, however, osprey are designed for picking up fish, sometimes large ones, which are struggling. They have to arrange the fish or the stick as they fly to create the least wind drag and gain height to reach the nest.
On the occasion when I saw this nest, the adult bird was trying to entice a large young bird to fly from the nest by teasing it with a fish, as the adult perched on the high branch. However, in the painting I have shown one adult bringing a fish back to its mate to feed small young which are not visible in the nest.
- Robert Bateman
In the Mountains – Osprey
Robert Bateman
This Piece has been Signed by Robert Bateman