Keeping Pace – Grizzly with Cubs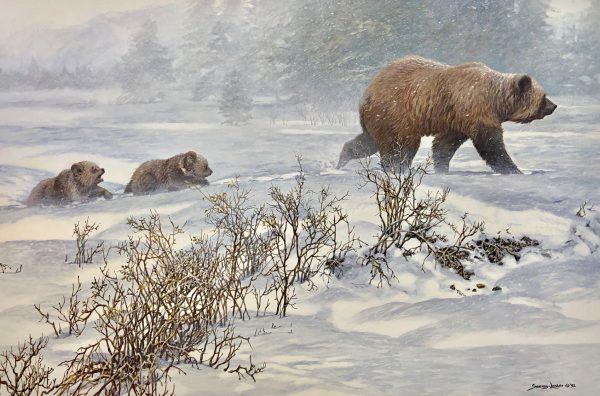 "Keeping Pace" is a painting based on a grizzly sow and cub I saw on my first trip to Alaska. It was early spring, but it had been a severe winter with heavy snowfall, and the passage into Denali National Park was nearly impossible.
I saw the bears just as they came out of their den. I watched the mother through a spotting scope as she struggled through the snow, making her way down to lower elevations. The mother was quite a distance away from me, and even through the scope she appeared very small. I didn't see the cub hidden down by its mother's legs until the mother broke away on her own. The cub was finding it very difficult to follow her.
I presented the idea for this painting in my book, Face to Face With Nature. I thought it might work as a larger piece with a second cub added to the composition. In the painting, both cubs are in distress in the deep snow. Whenever I've seen grizzlies with cubs, the sows, although very protective of their young, will move right off very quickly, leaving their cubs to keep pace.
- John Seerey-Lester
Keeping Pace – Grizzly with Cubs
John Seerey-Lester
(-62%)
This Piece has been Signed by John Seerey-Lester