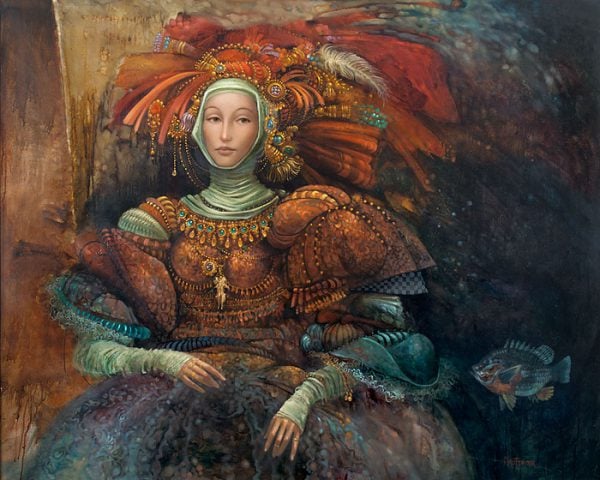 "People often ask me why I paint such beautiful, flawless women and poofy, flawed men. My response is, 'Do you really want to see flawed, poofy women instead?' Of all the reasons that people enjoy art, perhaps the most obvious and enduring is that it is beautiful. The human soul craves beauty.
"As an artist, I want people to stop and look. If it is a particularly attractive face, realistic jewel or large hat that stops them in their tracks, that's fine with me. I use complicated patterns and bright colors primarily because I like them, but they also serve to attract and maintain the viewers' attention. With many of the women I paint, there is less of a need to define a storyline. I can focus more on how the light from above illuminates the folds in a gown.
"The truth is that it is easier for me to relate to the poofy guys, to use them as avatars to reflect my own faults and those I observe in my fellow human beings. I have found that, with very few exceptions, men and women alike relate to the foibles of the poofy guys and enjoy the grace and loveliness of the beautiful women."
- James Christensen
La Duquesa
James Christensen
This Piece has been Signed by James Christensen