Lehi's Dream – Collector's Edition Set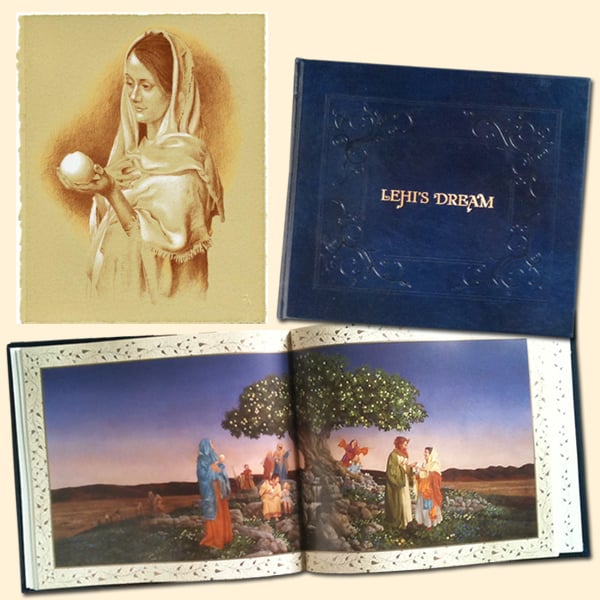 The Story behind the "Lehi's Dream" Collector's Edition Set:
Some six hundred years before Christ, a small band of travelers somewhere in the wastelands of the Arabian desert gathered in their leader's tent at his request. He had an extraordinary story to tell. It began: "Behold, I have dreamed a dream; or, in other words, I have seen a vision." The vision that Lehi recounted to his family set the course for the civilization - and the conflict - chronicled in the Book of Mormon. The images he recounted and his son Nephi's interpretation of their symbolic value give readers of the Book of Mormon a pattern by which to understand their own journey through mortality. Lehi's dream was more than an extraordinary story that a weary traveler told his family; it set the course for his family for centuries.
In Lehi's Dream, world-renowned artist James C. Christensen provides a visual journey through Lehi's account and Nephi's interpretation of that dream, which serves as a theme of the Book of Mormon and its civilizations. With more than a dozen new images created by James C. Christensen specifically for the book, and thought-provoking text by gospel scholar Robert L. Millet, Lehi's Dream is a valuable new contribution to the world of Latter-day Saint art and literature.
The Collector's Edition Book Set includes a special leather bound copy of Lehi's Dream, plus an original stone lithograph "The Fruit of the Tree". The edition size is only 160 copies and each print and book will be Signed by James Christensen and numbered to match.
Lehi's Dream – Collector's Edition Set
James Christensen
The Book and Print have both been Signed by James Christensen and Numbered to Match.