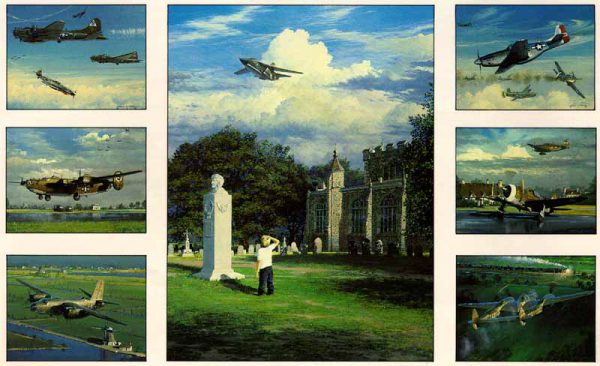 The print is actually composed of seven different Phillips images. The central image is a contemporary scene: a church yard not far from Peterborough, England. The memorial statue is dedicated to the 8th Air Force. Overhead streaks an 8th Air Force F-111 on a low-level training mission.
The boy? As Bill Phillips said, "he's part of a generation that hadn't even been thought of during World War II." Yet he and his generation are the beneficiaries of the sacrifice made by so many airmen during that conflict.
Surrounding the main image are six smaller pictures that are historical in nature; they take the viewer back to the height of the Eighth's action in World War II. Formed in August, 1942, this air armada struck time and again at the enemy's heartland, providing air power for the eventual liberation of Europe.
Signing the central image with artist Bill Phillips is Gen. Curtis E. LeMay, whose B-17's and B-24's provided the strategic might for Allied Forces.
The smaller pictures all show classic aircraft in action, and are signed by famous flyers. Each print has been hand-countersigned by General Curtis E. LeMay and Eighth Air Force Pilots Bill Lawley, Andrew Low, James Farrell, Robin Olds, Hub Zemke and Gerald Brown.
Lest We Forget
William Phillips
This Piece has been Signed by William Phillips; and Countersigned by Gen. Curtis E. LeMay; B-17, signed by Bill Lawley; B-24 signed by Andrew Low; B-26 signed by James Farrell; P-51 Mustang, signed by Robin Olds; P-47 Thunderbolt, signed by Hub Zemke; P-38 Lightning, signed by Gerald Brown