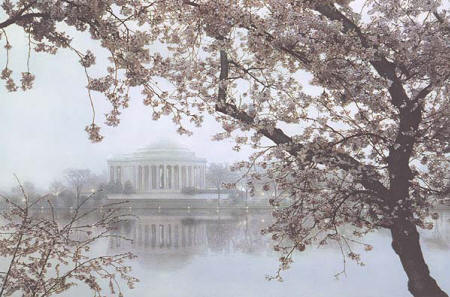 The Jefferson Memorial is seen across the tidal basin with Washington's famous cherry blossoms framing the scene. Jefferson was the only man in his day to foresee the "magnificent destiny" due our great nation. He was responsible for the Lewis and Clark Expedition which eventually led to uniting our country from shore to shore. He also saw the need to have New Orleans as a port at the base of the Mississippi River to encourage and enable commerce in the center of the nation. To that end, he negotiated the Louisiana Purchase.
Cherry blossoms have a deep significance in Japanese culture and are a traditional motif in art, literature and cuisine. Over four hundred varieties of cherry trees grow in Japan. The blossom is a symbolic national flower and sometimes is offered to other nations as a symbol of friendship.
Since 1935, there has been an annual National Cherry Blossom Festival in Washington, DC, to celebrate the flowering of cherry trees, many of which were donated t the City of Washington from Japan in 1912 and again in 1965. Conversely, in 1952, cuttings from the original gift trees from Japan were donated to Japan by the United States to help augment cherry trees along the Arakawa River, whose care had been neglected during World War II.
Magnificent Destiny
Rod Chase
(-59%)
This Piece has been Signed by Rod Chase