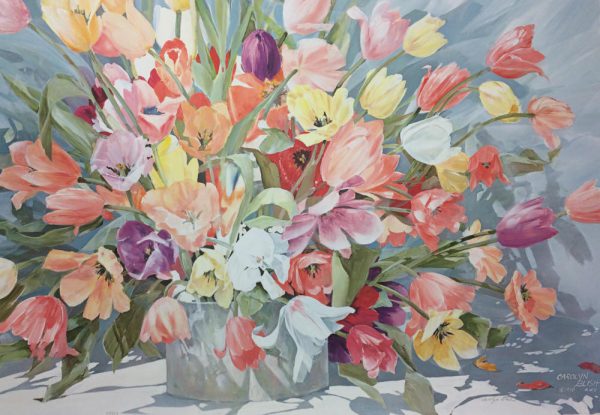 When I opened the door to Mary, little did I know she was opening a door for me. A friend of mine had brought her to my studio to look at my work, and, with some hesitation, I showed her a new technique with which I was experimenting - larger than life flowers with lots of juicy color, less definition and more interest in shapes than in photographic detail.
When she saw these giant tulips, her delighted response at once communicated such great encouragement to me that the door was flung open to go on developing this larger format.
These are "Mary's Tulips", not only because she bought this painting, but also because her verbal encouragement that day stirred me to go on in an exciting, new direction. Words are important. They have very real power. Today, I'm painting pansies two feet wide!
- Carolyn Blish
Mary's Tulips
Carolyn Blish
This Piece has been Signed by Carolyn Blish