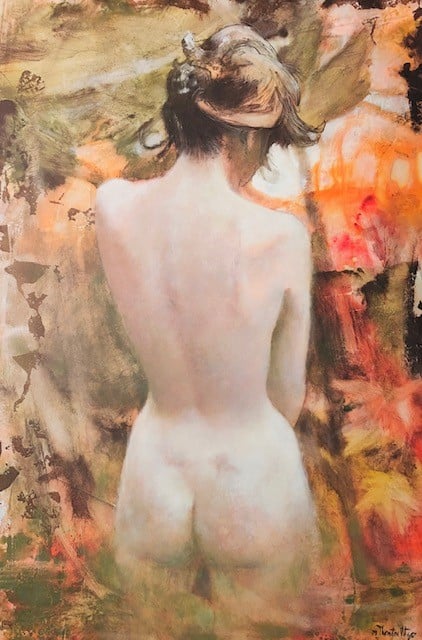 "Respect is love in plain clothing" is a quote from somewhere. A model clothed in sheer Eden wear is about as plain as you can get. What I want to express in this painting is respect not only for this model, but for women in general.
I subscribe to Sir Kenneth's philosphy regarding this form of art:
Sir Kenneth Clark, one of the foremost art historians of our time, as a Mellon Lecturer at the National Gallery in Washington, D.C. said, The English language, with its elaborate generosity, distinguishes between the naked and the nude. To be naked is to be deprived of clothes, and the word implies some of the embarrassment most of us feel in that condition. The word "nude", on the other hand carries, in educated usage, no uncomfortable overtones... 'What is a nude?' It is an art form invented by the Greeks in the fifth century, just as opera is an art form invented in the seventeenth-century Italy... the nude is not the subject of the art, but a form of art.
- Thornton Utz
Melanie
Thornton Utz
(-68%)
This Piece has been Signed by Thornton Utz