Men and Angels: The Art of James C. Christensen – Collector's Edition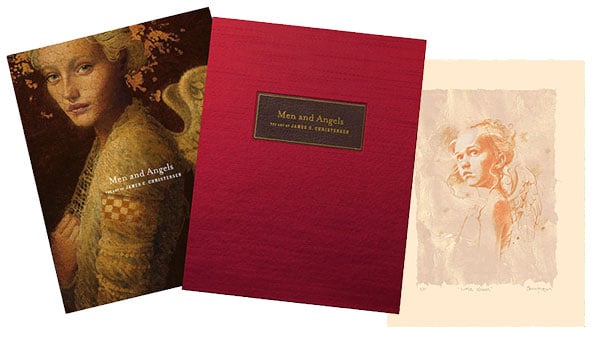 This diverse and masterful "Men and Angels" is the single largest collection of James Christensen's paintings ever published. This comprehensive volume brims with over 300 paintings (including many favored classics), more than 100 unpublished treasures and a selection of whimsical and inspired sketches from his private sketchbooks. From marriage to spiritual devotion to daily pet care, no object seems mundane after it has met Christensen's inventive brush. Applying his celebrated eye for the fantastic to people, landscapes and creatures (both real and imagined), Christensen has created a rich and strangely familiar world that will take a lifetime to explore. Each image presents a unique glimpse into the mind of the artist and holds up a mirror to the universal trials and triumphs of our own lives. Christensen's career as an artist and art professor has equipped him to be a great communicator, or perhaps the fact that he is especially articulate for a visual artist has made him a master teacher. His wide-ranging commentary is as engaging as his art. The range of subject matter and style are a testament to the artist's imagination, creativity and understanding of art history. His drive to connect with the world weaves through his work like a ribbon, over mermaids, under saints and around hunchbacks. The images communicate on a level that is as personal as it is universal.
Over 300 paintings plus sketches; 256 pages.
The "Men and Angels" Collector's Edition is autographed and comes slipcased in rich burgundy bookcloth with a gold-stamped, leather label, lined in acid-free paper and is accompanied by "Little Wings", an original stone lithograph created by the artist especially for the "Men and Angels" Collectors Edition. The title page of each volume is signed by the artist and is consecutively numbered to match the stone litho.
About "Little Wings": Each of heaven's angels has her own unique set of wings. Some are grand and gleam in the sunlight reflected off the clouds; some are sleek and graceful; some are a riot of peacock colors. This little angel, new to her own heavenly gifts, seems a bit impatient with the speed of their growth. When will she be able to fly like the others, dancing in the light of heaven? This original stone lithograph was drawn by James C. Christensen, and produced with the assistance of his long-time collaborator, Master Printer Wayne Kimball.
Men and Angels: The Art of James C. Christensen – Collector's Edition
James Christensen
This Piece has been Signed by James Christensen