Mickey and Minnie – Sweetheart Holiday – Classic Edition (Image Size: 9 x 12)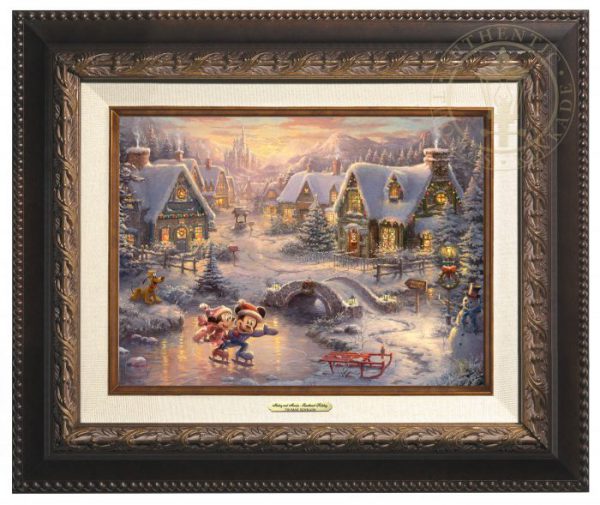 Premium Cotton Fibre Canvas on Hardboard
Your Choice of Hardwood Frame with Linen Liner
Engraved Brass Nameplate
Steel Hanging Wire
Kinkade Studios Certificate of Authenticity
---
Thomas Kinkade was a life-long admirer of Walt Disney and the wonderful characters he created. While Thom re-created many of his favorite stories on canvas, he also envisioned classic Disney characters set within traditional Kinkade images. In these paintings from Thomas Kinkade Studios, his dream is proudly brought to life.
In this beautiful winter scene, Mickey Mouse and Minnie Mouse joyfully skate across a frozen pond, celebrating the magic of the Holidays together. Along with their friends, they have festively decorated "Mickey's Square" with lights, wreaths, bows, a snowman, and all that makes the Holidays bright! Although it is cold outside, the skaters are warmed by friendship and love as they enjoy the wonders of the season together.
We wish you a Happy Holiday, and we hope that Mickey and Minnie – Sweetheart Holiday inspires you to create special memories with the important people in your life.
Mickey and Minnie – Sweetheart Holiday – Classic Edition (Image Size: 9 x 12)
Thomas Kinkade