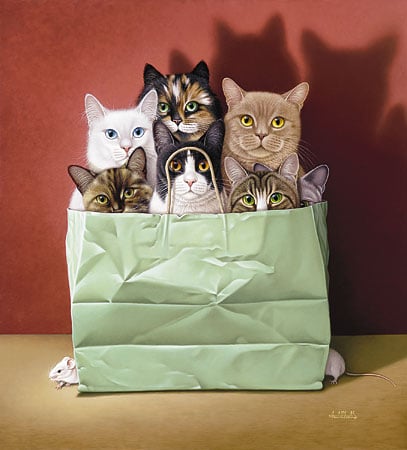 There's mystery behind a cat's eyes in the divinely inspired art of Braldt Bralds. His unique artistic talent has given us paintings that range from realistic, humorous portrayals of cats, to contemplative and detailed still lifes.
Born in the Netherlands, Braldt Bralds was very influenced by the works of the Dutch Masters. As a young child, he learned to appreciate illustration art from magazine advertisements, and from that time, his course was set. Bralds' impressive portfolio spans across commercial and fine art. His many awards include the coveted Clio award, the Oscar of the advertising industry. And in 1998, he was inducted into Holland's prestigious Illustrator's Hall of Fame.
Some of Bralds' most beloved works are his fanciful renditions of cats. In addition to the cats in A Mixed Bag, he's included what he calls a Dasch(hund) mouse … or is that two mice?
Mixed Bag
Braldt Bralds
This Piece has been Signed by Braldt Bralds